Be a part of the next innovation. Take your practice further by offering your patients a whole new lens wearing experience and GO BEYOND with THE MOST COMPLETE1 lens.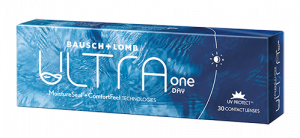 Watch our Bausch + Lomb ULTRA® ONE DAY Showcase Video
Please follow this link to our 24-minute showcase on the science behind our Most Complete1 silicone hydrogel daily contact lens as well as hearing early insights from our UK and Nordics Industry Experts on their experience with the lens and communication tips to inspire patients to trial.
Once you have viewed this video, you will receive your Bausch + Lomb ULTRA® ONE DAY Experience Pack and further details on how your practice can get started with fitting THE MOST COMPLETE1 lens.
When registering, remember to 'Opt In' if you are not already on our Bausch + Lomb mailing list, so we can provide you with follow up communications and offers.